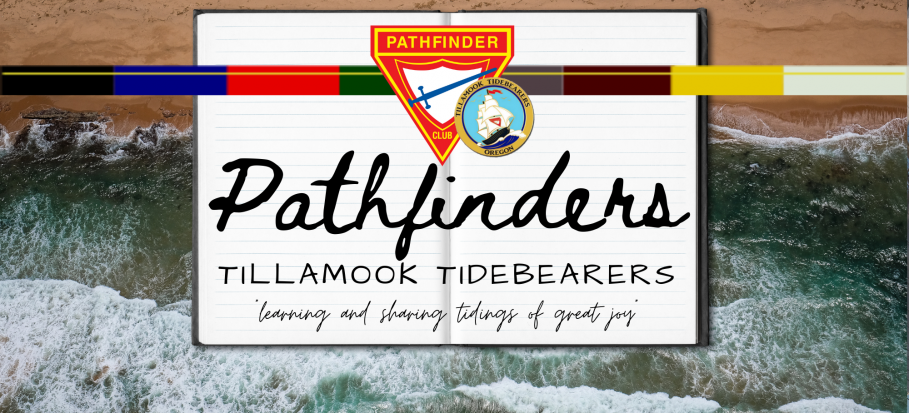 About Pathfinders
Pathfinders is a fun, social, and hands-on way for young people age 10 - 17, to learn new skills and discover more of the world God created for us.  5th and 6th graders are often referred to as "Junior" Pathfinders, and 7th and 8th graders are often referred to as "Teen" Pathfinders. There is a Teen Leadership Training (TLT) program that works closely with the Pathfinder program and is for grades 9-12.
Engaging lessons & activities give opportunity to learn about crafts & hobbies, as well as offering a taste of future professions.  Pathfinders is focused on service and community and offers interactive growth in a variety of recreational, artistic, nature, conservation, and outreach areas, with awards (honor patches) given for successful completion. 
Joining the Tillamook Tidebearers Pathfinder Club
More information about joining available by contacting the Tillamook Adventist Church Office.
Aim, Motto, Pledge & Law
Pathfinder Aim:
The Advent message to all the world in my generation.
Explanation: My relationship to Jesus Christ is of such an nature that it compels me to share  with any and all who will receive it, the good news of His soon return.
Pathfinder Motto:
The love of Christ compels me.
Explanation:  I am drawn to Him by His exemplary life, the selfless sacrifice of His crucifixion, His conquering resurrection, and His promise of an earth made new.  The closer I find myself drawing to Him, the closer I find myself identifying with the needs of my fellow human beings.
Pathfinder Pledge:
By the grace of God, I will be pure and kind and true.  I will keep the Pathfinder Law.  I will be a servant of God and  friend to man.
Explanation:  Only as I rely on God to help me can I do his will.  I will rise above the world in which I live and keep my life clean with words and actions that reflect God.  I will be considerate and kind, not only to my fellow man, but to all of God's creations.  I will be honest and upright in study, work, and play, and can  always be counted on to do my very best.  I will seek to understand the meaning of the Pathfinder Law and strive to live up to its spirit, realizing that following law is essential in any organization and community.  I pledge myself to serve God first, last, and best in everything I am called upon to be or to do.  And I will strive to bless others and to do unto them as I would like them to do unto me.
Pathfinder Law:
The law is for me to:               Explanation: 
Keep the morning watch,            —I will have prayer and personal bible study daily
Do my honest part,                     —With God's power I will help others, honestly, fairly and faithfully
Care for my body,                       —I will be temperate in all things and strive to be healthy
Keep a level eye,                        —I will not lie, cheat, swear, or harbor evil thoughts
Be courteous and obedient,       —I will be kind and thoughtful of others, reflecting Jesus love
Walk softly in the sanctuary,      —In any devotional exercise I will be quiet, careful, and respectful
Keep a song in my heart,           —I will be cheerful and happy and let my life be sunshine to others